28/09/15 13:47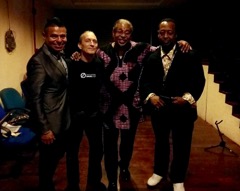 The Kuala Lumpur International Jazz Festival 2015 was very important to accomplish this year. Although smaller, the consistency of this event matters much!

Adversity was a part of the climate last year. Yet, this opportunity allowed that music could be expressed to the universe and to give thanks for the gift!!
I thank Rodin, Maizon Omar, Dr.Nasir Hashim of Cutural Centre, the University of Malaya, the Committee and Crew of the K.L. Jazz team for being true and committed to make this event happen!!!

This year my participation was bassist and member of featured artist Eric Wyatt's quartet. Wow! Rodin was cognizant enough invite Eric and bring in his right hand man, artist and pianist extrordinare Bonito Gonzales. Myself and Eddie Layman(drums) joined the dynamic Eric & Bonito. Let me tell you it was on !!
After a short rehearsal with some understanding of the arrangements for Eric and Bonito's music we picked some standards for Thursday night @ Healey Macs (pre-festival pop up spot) Smoked it !!!! Truly my new best music brother friends know i mean the same purpose as them.

Friday , We poured our souls out for the music of Eric and Bonito. Solos were given to me that weren't discussed. Had to go with spirit and purpose for why I am here this day. Gratified to know Eric and Bonito understood I could handle this with the same purpose we were brought together. Now, with a special dedication "One for Hakim ". It was noticable that the spiritual side of the music was and is evident. Something that is inherent in the listener's, players who understand the history,legacy and the plight of growing up in the Universe 'the real neiborhood' ! The feeling of music is an ascension of the mind body and soul !

That leads me to the sincerity of John Coltrane and his music, angelic how him, being a musical Messenger, conductor, conduit from the Supreme Creator to stroke our souls and feel true love for one another in our human existence in this universe.
Well Saturday night was dedicated to John Coltrane, and we played Resolution (with bass intro), My Favorite Things, Eternal Equinox (Eric Guesting a young up and coming Malaysian tenor player). Impressions guesting Patrick Terbrack. Mind you, Eric Wyatt was stern leader, in that he knows what he wants musically, and for this purpose for the festival was very refreshing to know…

John Coltrane's Dedication we went with musical faith. Eric showed his leadership musically. With Trane like tone and idea eloquence especially on My Favorite things where music things took on different shapes as Eric seemed to butterfly tonaly through our harmonic or chromatic modulations . Yeah I still had the ground bass . and an uncuffed Eddie Layman basques in freedom to keep up with Bonito's intensity. I gotta tell ya on impressions after solo's. Bonito called for solo Obligato piano. Spirit is with us and he seemed to know the way home. Left hand bassin a solo? Yeah with a rhythmically fluttering ostinato you could relate to, whilst the tonal right hand played solo bass voice. That captured the audience. Incredible! Tonally and harmonically interesting this was, what we needed to captivate and set up the strong ending to close the concert. Truly magnificent with musical wisdom as He SAY 'S HE HAD TO DO IT " Well I'm completely thankful for this music encounter.

Sunday's tribute to Coltrane was appropriate as for me. My Moms birthday is September 23rd as is John Coltranes and am heading back to celebrate her 80th Birthday party. The Music of Trane will set the ambience. I am up lifted by all the musical happening's these past days and weeks. More to come as Eric and I will be performing together in Singapore. Wishing all of my family and friends much love, peace, joy and music !!!
We have placed cookies on your computer to help make this website better. If you agree with using these cookies then click the accept button.