29/02/16 11:31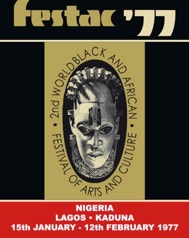 As we are at the end of
Black History Month
(African American History Month) 2016, I wanted to share something historical that happened in the last 50 years:
The Festac Festival 1977
(2nd Annual Black and African Festival of Art and Culture). Participants from African countries in one location. Slave descendants from all over the world returned home to Africa. A monumental task for the organisers. Special thanks to the late
Jeff Donaldson
(Howard University) and
Dr. Semella Lewis
for helping us to make this trip representing Black African Slave Descendants of America. Under the leadership of
Troy Robinson
and
John Outterbridge
we were able to participate. Well this event needs a lot attention but, I can tell you later in another blog what it means to me.

Of course, I will name all parties involved as this will be a part of my own book. For now I'm thanking Kevin Johnson (participant) for his dedication to get a proclamation from the city of Los Angeles acknowledging us individually as well as collectively, with Troy, as participants in this hallmark event. Kevin had previously got a proclamation years earlier acknowledging Troy our conductor. So thats whats up? This is the 38th anniversary of Festac. Thankful to be a part of this, we all a part this, for it is historical and meaningful on so many levels. Dedicated to Black lives matter past present and future. Realisation of this consciousness is and in all ways a continuum. Thank you
Harvey Estrada
for keeping in the loop with Kevin.


Salute to all the Black Artist of Los Angeles past and present. And to you all Love peace, and the Arts !!!!!!